May 27, 2016
Exploring the Future of Travel @ TravelTechCon
Introducing Travel Tech Con, an independent conference organized by a group of travel startup founders who share a common passion of moving the travel industry forward. Now in its first year, the event this month spanned over two days, the first of which had 15 startups present at the Plug & Play Center in Sunnyvale California. Day two focused on players in the world of travel tech addressing what needs to change in the next ten years to bring an industry with an antiquated infrastructure up to what consumers expect in 2016 and beyond.
Photo credit: EMaze.
From Virtual Reality, Artificial Intelligence, Blockchain, the Internet of Things, Big Data, Open Travel Standards, Automotive Innovations and more, we heard from Adobe's Head of Global Industry Strategy & Marketing for Travel & Hospitality Mohammad Gaber, Emergent VR's Peter Wilkins on the future of VR and Travel, OSLET's Gadi Bashvitz on using personalization to drive conversions, Chute's Ranvir Gujral on AI, GEIOS' Michael Frischkorn talked about using IoT to help travelers create more memories, and Roomstorm's Maksim Izmaylov talked standards, a necessary for efficient global communication.
There was also an interesting panel on emerging automotive tech which was addressed by Roadgazer's Maria Mokhnatkina, Bosch's Tom Lindma, Skurt's Tin Hang Liu and Princeton Optronics' Alexey Kovsh. The second day was held at Yelp so not surprising to hear from Yelp's Rachel Zhao who talked about making it global while keeping it local. SFOX's Akbar Thobhani, Factom's Tiana Laurence and Norm Rose talked about the opportunities Blockchain can bring.
Think of it as a distributed network that offers value….value that can't be duplicated. When you're dealing with strangers, blockchain can offer tremendous benefits. Since travel is so distributed and so global, blockchain is a way to help make travel booking more direct and more efficient, cutting out the umpteen number of middle men that are in the way of a vendor and the consumer today.
This will allow direct booking will increase and improve. Since blockchain is all about being decentralized, it may be harder at first to establish loyalty although new models will certainly evolve to re-engage and build loyalty with customers. The future is here but it's just not distributed…yet. The idea for vendors is that they should be able to continue using their existing systems but supplement them with blockchain to more directly reach their customers.
Blockchain is contextually the next infrastructure platform that could eliminate the middle man in travel as well as help to reduce fraud. Other trends include the growth of services like AirBNB and couchsurfing and as more services like it emerge, identity and transparency will increasingly become more important. And of course, we talked about the interests of millennial travels since their patterns of behavior is so different than the generations behind them.
Millennials increasingly want experiences not physical objects. People are traveling earlier than ever and they want to see the world. There's less fear than ever before, largely because millennials are more familiar with the world because of social media and technology.
While so many tour companies and destinations still focus on print articles and advertising, they don't realize that most millennials find their ideas about where to travel and what to do through social media and online networks. They trust what their friends recommend on these social networks over something they might read in a magazine they don't have a personal connection with.  Because they use technology all the time and it's an integral part of their world, they also expect technology to be part of their travel experiences.    

Posted by Renee Blodgett on May 27, 2016 | Filed in America The Free, Conference Highlights, Events, On Innovation, On Technology, On the Future, Travel, TravelingGeeks | Permalink | Comments (0)
May 10, 2016
uHoo, Most Advanced Indoor Air Quality Sensor Now Available for Pre-orders
When I was approached by a company that is trying to transform how we all think about the air we breathe, I was intrigued. After I learned that it wasn't an outdoor environmental play, but indoor air, I was even more intrigued. After all, how bad could indoor air be? It turns out, pretty bad.
After I did some of my own digging, I wanted to be involved. There are some alarming stats of why you should care and why what they're doing matters.
Meet uHoo, the most advanced indoor air quality on the market, which is now open for pre-orders over on IndieGoGo starting today.
More than any other product in the market, uHoo provides real-time alerts on unhealthy air, going deeper and broader than other products. What sets uHoo apart is its eight dedicated sensors, detecting Carbon Dioxide (CO2), Carbon Monoxide (CO), Ozone, Air Pressure, Volatile Organic Compounds, which are found in paint and home cleaning products, Temperature, Dust and Humidity and all sensors are dedicated, which is not the case with most other solutions.
With concerns on indoor air quality at an all-time high and the fact that we spend nearly 90% of our time indoors (some studies say more), uHoo aims to transform people's health by providing an affordable solution for asthma and allergy sufferers, for people with toddlers at home and for anyone who genuinely cares about their health.
Couple that with unhealthy indoor air being linked to cancer and heart disease, 6 in 10 homes being hazardous to their owner's health and half (yup, that's 50%) of America's schools having problems linked to indoor air quality, a product that detects the particles and chemicals we breathe in real-time can be transformative to our day-to-day lives.
What Don't We Know?
Given the tragic news reports on poor air quality in schools and drinking water in Michigan, it's more important than ever to be proactive and know whether you're in a healthy environment before it's too late. With uHoo, you can know first-hand what the quality of air is like in any room or building where you live or work. uHoo is only 3.3 inches in diameter, 6.2 inches high and weighs less than a pound, so it can easily sit unnoticed at home, in gyms, churches, spas, community centers, basements, your office or kid's bedroom. The list is endless as to where uHoo can be used.
According to the American Lung Association, "it's hard to know when air in your home needs cleaning; the indoor air you breathe can be hazardous to your health without any telltale signs." In other words, we can't manage what we don't know or can't measure. Their site includes other useful information worth checking out as well, like identifying what makes indoor air unhealthy and how pollution can hurt your body. They also have a useful list of what all of them are so you know exactly what could be in the air you breathe at home or work.  
Revolutionary For Businesses Too
You can have multiple devices on one account, so you can monitor different locations around the clock. This is not just a great feature for businesses that are looking to ensure the quality of the air is healthy for employee's optimal well-being and productivity, but can significantly reduce operating and health-related costs by knowing how to regulate the air more effectively.
Continue reading "uHoo, Most Advanced Indoor Air Quality Sensor Now Available for Pre-orders"

Posted by Renee Blodgett on May 10, 2016 | Filed in America The Free, Client Announcements, Magic Sauce Media, On Health, On Innovation, On Technology, Travel, TravelingGeeks, Web 2.0 | Permalink | Comments (0)
May 08, 2016
In Honor of Mother's Around the World & My Own
The truth is, I used to reflect about Mother's Day every year and even write about it occasionally. My mother who was actually my grandmother -- Irene was her lovely name -- was one of the most inspirational woman I've ever known and I've encountered a lot of amazing female souls over my lifetime. It wasn't until later in life that I learned that Irene was the English name for Renee and the French name came from my mother's side who apparently came from several generations of French heritage, although we rarely talked about that.
I always assumed I was much more English than anything else until Ancestry.com told me otherwise and I realized just how dominantly French my background really was. In fact, my nearly 30% Italian genetic make-up was even more prominent than the English side of the family -- their DNA seemed to have passed over me somehow. When I think of her, I think of roses. I think of tulips too, since we planted them together and without fail, they sprouted from our upstate New York garden every spring.
Credit: Mirror.co.uk.
What set her apart was her ability to be raw and truthful, raising issues people were uncomfortable hearing, but doing so in the most genuine and diplomatic of ways -- her English mother Ida taught her well perhaps although given what I knew about my great grandmother, my guess is that it was simply unique to Irene. I've never been able to live up to the level of dignity and elegance that she showed everyone around her simply by walking into a room.
I learned so much about the trials and tribulations of motherhood and what it was like to be a woman growing up in the 1920's and 3o's simply by being a good listener in my mother's kitchen, one which was never modernized. Its retro white cupboards remain until this day even under new ownership.
I wrote about the connection between My Mother's Kitchen and blogging on my personal blog 12 years ago (yes, I've been blogging for a long time) and that wasn't even an early entry. Her sassiness and loveliness will always be remembered and while it is no doubt tragic that she never witnessed my wedding day nor has she seen me as an adult woman facing so many of the same challenges she did over forty years later, her voice and the decisions she made never leave me.
She was one to take the high road, which I've had to do on more than one occasion, especially in business when those who you encounter are not as ethical and honorable as you had hoped.
Continue reading "In Honor of Mother's Around the World & My Own"

Posted by Renee Blodgett on May 8, 2016 | Filed in America The Free, On Women, Reflections, TravelingGeeks | Permalink | Comments (0)
March 30, 2016
DENT 2016: From the Morality of Sex Robots & AI to Free Diving & Mental Health
Putting a dent in the future -- isn't that a compelling idea? And, what's even more compelling is that it means such different things to different people and why the eclectic DENT Conference in Sun Valley Idaho, is so unique.
From technologists, entrepreneurs and scientists, to artists, astronauts and Olympic Gold medalists, people gather around to hear radical new ideas, learn from the best of the best and share their best practices, all under the roof of the Sun Valley Inn, a stone's throw from Baldy Mountain and incredible skiing, even in the Spring. The brain child of Seattle-based Steve Broback and Jason Preston, DENT is now in its fourth year and my third year of attending, DENT's format is a mix of educational, interactive and thought provoking, with un-conference break-out sessions, fireside chats and general talks.
Since the backbone of the conference stems from the technology community, it seemed fitting that American futurist and author Amy Webb would speak. As the Founder of the Future Today Institute and an Adjunct Professor at New York University's Stern School of Business, she dabbles in a lot of projects. She asks us wryly: "What happens when we get what we say we want?" On the topic of Emerging Tech Trends and the hot button in Silicon Valley right now: Big Data, she addressed where and how that data will change how we think about the world and how we interact with it. What if an algorithm could predict our news? What if a news story could be written by an algorithm, using curated and scraped data that could get published? If you follow financial and sports news today, you may be surprised to learn that many of these stories are already being written by algorithms. Yet, it's not something we really think about and curation is already there in some industries. What if algorithms designed our real world experiences OR even more radical: what if algorithms could program our people?
Photo credit: www.goldenhourblog.com
I've been seeing this for the last few years -- curation is becoming more and more automated and we are moving towards hyper personalized news. Rather than reading a single news story, data that reaches our desktop or mobile device is becoming more personalized for you....all programmed by an algorithm.
The nugget of news will be personalized based on our own old data and online behavior which means that there's an infinite number of possible stories that could be distributed. What if in the not too distant future, there will be editors but no journalists. Imagine that you will have your own personalized news feed that is pre-filtered based on your likes and preferences.
Yes, it's happening, but it begs the question: is that what we really want? Because there are so many possible places to get our news, the real value will be super customized and personalized. Sure, it will be content vetted, but isn't there an element of joy when we discover new things outside our comfort zones? If the vetted, curated big data funnel merely delivers me content on travel, photography and food because those are topics of interest I search about the most, will I ever learn about something new I might want to try, like martial arts or sky diving?
And, if I'm a democrat that searches more for Bernie Sanders talks than Ted Cruz, will the articles on Bernie be more favorable than the ones on Ted Cruz, and how does that algorithm decide what bias to let me see -- and more importantly, not see. What gets marshaled to the top and what gets moved to the third page of my search? Machines are learning from human behavior every day, including political views, our income brackets and the ugly biases of racism and homophobia. Truth be told, we are leaving bread crumbs everywhere, every single day. Perhaps in the future, we will PAY to be anonymous and that will be worth more than anything else. I couldn't agree more.
Continue reading "DENT 2016: From the Morality of Sex Robots & AI to Free Diving & Mental Health"

Posted by Renee Blodgett on March 30, 2016 | Filed in America The Free, Conference Highlights, Events, Magic Sauce Media, On Innovation, On Science, On Technology, On the Future, Science, Travel, TravelingGeeks | Permalink | Comments (0)
March 07, 2016
Watermark Conference for Women Hits Bay Area on April 21
I love conferences and events solely dedicated to women, especially those where mentorship is part of the value-add, whether that be from listening to inspiring powerful women's talks throughout the course of the day or networking with women going through similar issues you might be facing at home or at work. I'm new to learning about the Watermark Conference for women in the Silicon Valley Bay Area and plan to attend this year. At last year event, former U.S. Secretary of State Hillary Clinton who's now in the race for the White House, delivered a keynote address to thousands of attendees.
Keynotes this year include Glamour's editor-in-chief Cindi Leive, TV personality, comedian and author Mindy Kaling, Sama and Laxmi founder Leila Janah, Soccer Superstar Abby Wambach and Entrepreneur John Jacobs.   The conference has networking, professional development, inspirational panels and keynotes.   More details can be found on their site, including speakers, sessions and bios on the keynotes: https://www.watermarkconferenceforwomen.org. This year's event will be held in San Jose on April 21, 2016.
 

Watermark offers Community & Connection, Info & Inspiration, Motivation & Momentum....

so you can Discover What You Want & Achieve It!
The event brings together acclaimed women who share their wisdom and expertise on a wide range of personal and professional development topics, to help you find clarity on your goals and what you need to accomplish them.
Topics include managing your money, reinventing your career, dealing with change, how to market yourself and network effectively, how to help your community, finding funding for your business, managing your health, attitude and more.
The event is targeting non-profits, community leaders, entrepreneurs, self-employed women, job seekers, students, or frankly anyone looking for some motivation and inspiration.
They will also have an Exhibit Hall which will feature organizations showcasing a wide variety of products and services as well. What else is cool is that the conference advocates for the advancement of women in the workplace by offering regular leadership development programs and networking opportunities and promoting gender diversity and equality initiatives.
Watermark also supports girls' leadership programs, as well, to help build a well-qualified workforce for the future. The Watermark Conference for Women is generously underwritten by presenting sponsor Juniper Networks and supported by the following sponsors: Cisco, EMC,  Amazon, Gilead,  Akamai, Johnson & Johnson, Mercer, riverbed, and Oracle. Media partners include: KFOG-FM, KGO 810 and NASH FM. You can follow them on Twitter @wtrmrk as well to join in an ongoing discussion.

Posted by Renee Blodgett on March 7, 2016 | Filed in America The Free, Conference Highlights, Events, Magic Sauce Media, TravelingGeeks | Permalink | Comments (0)
January 25, 2016
Find X With Thought Leaders & Visionaries at TEDxBerkeley on Feb 6
From innovative surgery and extraterrestrial intelligence to reporting from war zones and Grammy-Award winning music, this year's theme for TEDxBerkeley 2016 -- Finding X, which will be held at Zellerbach Hall in Berkeley CA on February 6, will look to solutions to our world's imperfections. Sixteen riveting speakers will address how we identify these problems and make sense of them in the larger systems where they belong.
Whether it be voyaging into uncharted technological or scientific territory, reconciling our diverse perspectives of the human condition, or unearthing the parts of ourselves that give our lives direction and meaning, we all hope to make an impact on this world by Finding X.
Now in its 7th year, this prestigious TEDx event will bring together thought leaders, visionaries, innovators and 54 performers who will enlighten and inspire more than 2,000 attendees across core disciplines impacting the world, from medicine and education to technology and diversity.
TEDxBerkeley strives to curate an outstanding group of inventive and provocative speakers who can shift global conversations in a way that makes the world a better place, central and core to TED's mission. The goal is to get us all to re-think conventional ideas and the status quo so that we can all make a positive difference in our own communities. Tickets for TEDxBerkeley 2016 are on sale through Friday, February 5 or until they sell out.
Attendees or those viewing via Live Stream at http://www.tedxberkeley.org starting at 10 am PST/1 pm EST, can also participate in the conversation on social media by using #TEDxBerkeley on Twitter, Facebook and other popular social networks.
Continue reading "Find X With Thought Leaders & Visionaries at TEDxBerkeley on Feb 6"

Posted by Renee Blodgett on January 25, 2016 | Filed in America The Free, Client Announcements, Conference Highlights, Entertainment/Media, Events, Magic Sauce Media, On Education, On Technology, San Francisco, TravelingGeeks, WBTW | Permalink | Comments (0)
January 17, 2016
New York Times Travel Show Round-Up, Much More Fun Than CES!
I missed last year's New York Times Travel Show since we were about to embark on a 5 week long journey cross country -- our hashtag for the tour was #WBTWxAmerica for those interested in seeing photos on Twitter, Facebook and Instagram. We left New York the week before the event, and only a day before the city got hit with a snowstorm.
This year, we were proud media partners of the event since it remains one of my favorite travel shows in the industry. I love the fact that the show is a great mix of trade and consumer content and brings together some of my favorite destinations in the world all under one roof.
Despite the fact that is an American East Coast event, countries as far away as Taiwan and Japan showed up, there were wellness offerings from gems like Tahiti, St. Lucia and Bali, plenty of South American representation, and it took me nearly a day to make my way through the Africa aisle alone. From learning cool facts about specific destinations and exploring the latest from African safari tour companies, which we'll be expanding in 2016, I could have easily spent a full day in discovery mode.
Below, Arthur Frommer, from the infamous Frommer's Guides, opened the official consumer day of the event, which included a formal ribbon cutting at the entrance on Saturday morning, January 9. Some of my personal highlights are outlined below - as always, questions or comments, leave them in the comment section or feel free to tweet or email me @weblogtheworld.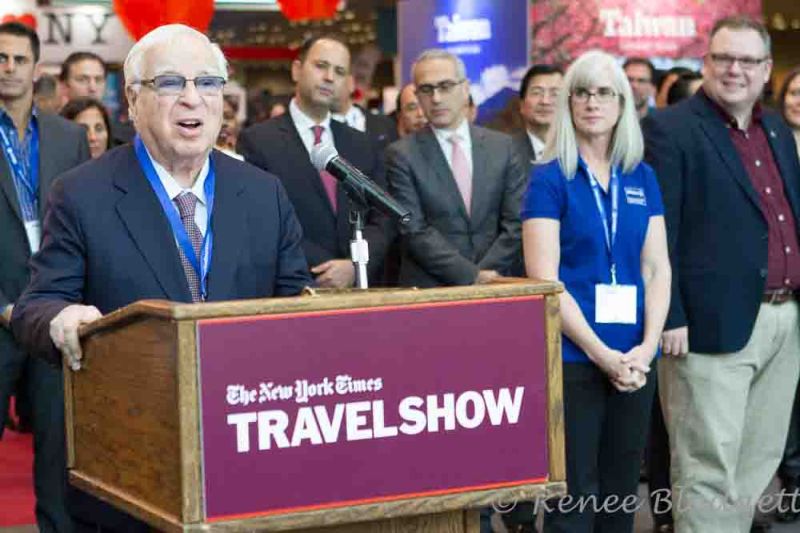 Eastern Europe
I was thrilled to see my pals from Estonia, Lithuania and Latvia on-site; we went on a press trip with them a few years back and loved it -- see my coverage of Estonia and Lithuania. They also served scrumptious cheese from the region which I dared not say no to -- food is such an integral part of travel for me, that I can't separate the two. Speaking of food, Dubrovnik is having a Good Food Festival from October 20-23, 2016, where you'll get dinner with a famous chef, taste traditional and not so traditional dishes, take part in gastro tours, entertainment and live musical performances and have an opportunity to attend workshops and presentations. More details at www.tzdubrovnik.hr.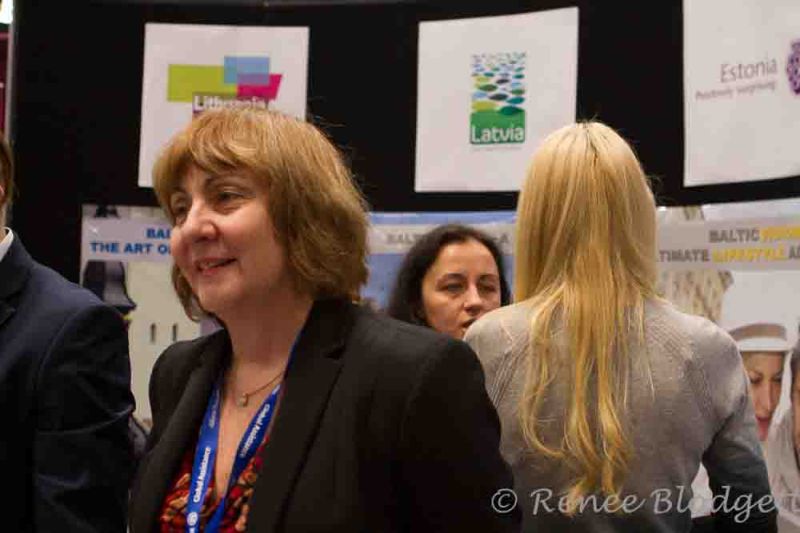 Croatia was promoting Wellness Travel among other things, which was exciting for us since we are not only expanding our Wellness coverage significantly in 2016, but it's a personal passion of mine and has been for years. Be sure to read my Wellness Travel Round-up of the show, which is going live next week.
I also got enticed by some of Adriatic's tours, which does land tours to Croatia, Montenegro, Slovenia, Bosnia, Herzegovina, Albania and Macedonia and charter cruises of the area. They specialize in excursions to Croatia and the Balkins, including island hopping, which had me at "hello." Niche Touring offers fully guided travel for small groups, which makes for a much more intimate setting, something we applaud.
They too focus on Croatia, but to off-the-beaten-path hidden places often not found on a typical tourist itinerary. Their tours emphasize the history, local food, and culture of each region, shared by the Croatian people you meet along the way. We're keen on reviewing one of their tours as I was impressed by their big heart and personalized approach to tours of the area, which include both water and land experiences.
I didn't have time to visit the Hungary or Czech Republic booths, although I have been in recent years and they remain on my fabulous destination list, so if you haven't been, be sure to read our coverage (Hungary and Prague specifically). Our content on Russia isn't deep but it's worth a meander as the content is full of rich photographs and history. And, my last trip to Berlin Germany this past year included more time in East Berlin than West, so be sure to read through our coverage over the past year.
Continue reading "New York Times Travel Show Round-Up, Much More Fun Than CES!"

Posted by Renee Blodgett on January 17, 2016 | Filed in America The Free, Conference Highlights, Events, Magic Sauce Media, On the Future, Travel, TravelingGeeks | Permalink | Comments (0)
January 16, 2016
Will VoLTE Eliminate VoIP in 2016?
Will VoLTE do away with VoIP in 2016? With major carriers like AT&T and Verizon Wireless in the United States now offering VoLTE services, will this voice technology become the new standard by 2016?
At the moment, many of us choose to use VoIP services, which seem on the surface to be quite similar to VoLTE. Both transmit voice calls using packetized data. However, there are some key differences to be aware of which leads some to believe that VoLTE is the superior technology. Here's a look at these differences, and whether or not VoLTE will be able to overtake VoIP by the end of next year.
The Differences between VoLTE and VoIP Although VoLTE and VoIP may share common acronyms, they do work a bit differently. This also translates into differences in performance. If you've ever used an app like Google Voice, Skype, or WhatsApp, you already know how VoIP generally works. It allows you to make voice calls over an IP network, transmitting the voice data in packets. VoIP can be used over any sort of network, whether you're connecting with 3G, 4G or local wireless.
VoLTE can only be used over a high-speed LTE network. It still breaks your call down into smaller data packets, but it offers a faster speed and does away with the need for a third-party app in order to function. In terms of performance, VoLTE can be clearer and more reliable, simply because it relies on that 4G connection. At their best, VoIP calls can be great.
Bear in mind that they do depend on the connection you're using – as anyone who's had a Skype session suddenly interrupted knows! Because VoLTE doesn't use third-party apps, it also is less of a battery drain on your smartphone than a VoIP service like Skype. Predictions for 2016 At the moment, VoIP is still far more available than VoLTE because it can be used over any IP connection, whereas LTE still needs to be rolled out in many areas. Will this facet of the technology be reversed in 2016?
Some like to think so, while others see VoLTE as a real wild card. One big factor that could lead to it eventually overturning VoIP is the fact that VoLTE is more efficient for network operators like Nokia Networks and Verizon Wireless. This gives them added incentive to work on pushing it as a mainstream form of technology. '
In large markets like India, where dropped calls and poor reception are a major issue, there is a huge push at the moment to work on widespread 4G networks and VoLTE services. The Bottom Line As 4G becomes more ubiquitous worldwide throughout the next year, it's likely that worldwide carriers will follow in the footsteps of operators who already provide VoLTE as a standard service. Whether or not 2016 will be the year that it breaks into the mainstream and overtakes VoIP remains to be seen, however.
There is still the challenge of creating a uniform experience for telco customers, so the service needs to be interchangeable between carriers for it become more widespread. Most of us are already quite comfortable using our VoIP services, but if VoLTE is built into new devices and contracts we may make the switch over time. This will most likely take place over the next few years rather than something that happens all at once in 2016, but at some point VoLTE will be the new standard in voice calling.
Contributed by Rachel MacDonald, Nokia Networks

Posted by Renee Blodgett on January 16, 2016 | Filed in America The Free, Europe, On Technology, On VoIP, TravelingGeeks, Web 2.0 | Permalink | Comments (0)
November 26, 2015
Turn Back To The Land That Shaped You This Thanksgiving
Happy Thanksgiving! On the morning of another Turkey Day, I reflect on the things I am grateful for, and there are plenty despite it being a rocky year.
I salute this day to the people in my life who stood by me during the rocky and the joyous and to a place which shaped who I am today – the Adirondacks.
In a world where we look at miniature screens more than we talk to or perhaps even touch people or a tree, I think we all too often forget about the importance of nature – the land that originally fed Americans when they first landed in New England so many moons ago…..my and your ancestors. It was about Communion. Harvest. Sharing. Being Thankful. Joyous for making it to a New Land, a land which was so ripe for harvesting and planting, they did.
When I was a child, our nourishment still came from this land. In our home, we didn't eat chemically modified food. I was lucky to be raised by my grandparents who held values from the turn of the last century, led by a misfit grandfather who showed me how to tend a garden and even more importantly why knowing how had so much value. Some of the things we grew in that garden we ate on the holidays. My grandmother canned everything, from jams and jellies to blueberries to make pies and tomatoes, which we used for sauce in the winter.
I challenge you to two things on this Thanksgiving day as we gear up for a month long holiday season of commercialism and even more technology being thrown our way as an important "must have" in our lives.
First, return to the land that raised you….the hood you call home and really look at the earth where you played, first learned how to ride a bike and perhaps where you first swam in a natural body of water such as a lake, pond or ocean. Be with it. Understand it. Feel it. Be grateful for it in a way you may never have. Teach your kids how to be with it and feel it.
Secondly, think about everything you put in your body and…your children's bodies. If it's modified and not natural, don't do it. Really think twice about supporting a horribly "gone-wrong" food system in this country that can only change if everyone stands tall and says NO MORE to fructose corn syrup, GMOs and processed boxes of crap.
Eat healthy and wisely today and every day moving forward. Be thankful for the earth that raised you and the fact that you can make choices every day about how you treat people and what you eat.
If we don't give time and energy to our land (and to how food is planted on our land), there may be a time where that choice is no longer ours!

Posted by Renee Blodgett on November 26, 2015 | Filed in America The Free, Holidays, On People & Life, On Spirituality, Reflections, TravelingGeeks | Permalink | Comments (0)
November 19, 2015
A Toast to Silence Along the Jamaican Coast...
For the second night in a row, I hadn't bolted the door. When I woke up, I had that dizzying feeling you get when you've passed through too many airports in a short period of time, wondering where you were and what day it was.
There wasn't a sound to be heard except for a distant bird's call that didn't remotely sound familiar. I tried to put my attention on it so my mind didn't race off into the land of thought, the ever land of thought that never seems to shut down. What hadn't I done the day before that still needed my attention and all the things that so often steals precious time away from the serenity that this precious island had to offer.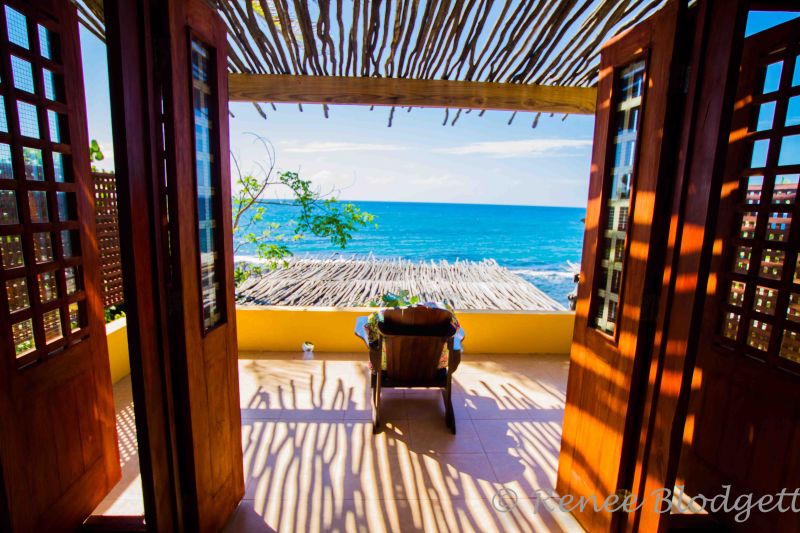 I was on the very same Caribbean island that I read about for the first time when I was ten, and while I hadn't heard of Reggae or the Blues yet, the novel painted such a rich picture that I knew the rhythm and beat by heart, so much so that I imagined drums on the ceiling of my bedroom and if anyone ever asked me, I would swear they were real, as if a helicopter dropped them by night and parachuted them away the moment daylight hit.
My imagination couldn't have been more vivid at the time and dancing colors of multiple rainbows were part of the canvas of life I painted for myself each and every day; it was a beautiful innocent time where stormy grays and dark blacks didn't exist, not even in my mind's eye. It was the start of my exploration of music and I so wanted to be the character in that mystery novel I can't recall the name of, just so I could dance all night and write music all day.
I wanted braids in my hair with bright purple ribbons and to see the sun set so far south of a coast I only knew as bitter and cold. I had finally gotten to Jamaica and while I was far away from that ten year old self, I couldn't help but wonder where the character in the book had lived and what they were doing now. After all, the character must have been based on someone's experience a long long time ago and to this day, I'm convinced of it.
The story shaped my musical path and the kinds of destinations I gravitated to for so many years and while part of me longed to dance the night away with purple ribbons woven through soft brunette braids, this journey was to experience a different side of Jamaica….the silent side.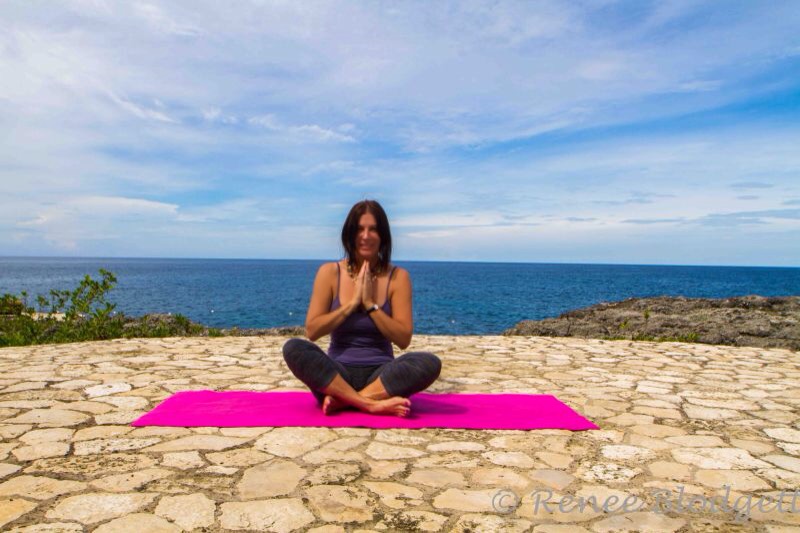 The breeze began to move the wooden shutters in the French doors of my room which led out onto a stone patio which faced a windy Atlantic sea. As they moved, I could see the flickering light of early morning, the sun so much brighter and warmer than what greeted me at home.
Still fatigued by a long year of travel and transition, my groggy state stumbled towards the flickering light and slowly opened the door I forgot to bolt and as I did, the wind grabbed it away from me, blowing it wide open and with it, the other side.
Continue reading "A Toast to Silence Along the Jamaican Coast..."

Posted by Renee Blodgett on November 19, 2015 | Filed in Music, On People & Life, On Spirituality, Reflections, Religion, Travel | Permalink | Comments (0)
November 09, 2015
Happy 50 Years to The Sound of Music
If you're over the age of 30, chances are you've not only heard of The Sound of Music, but likely grown up watching it with your family. While the birthplace of all it was in and around Salzburg Austria, oddly enough Austrians and Germans didn't grow up watching it nor did it create such a groundswell effect locally like it did in other countries.
In October, I was invited to Austria celebrate the 50th anniversary of The Sound of Music, which was originally released in 1965, a pivotal year for so many cultural and historical events.
Truth be told, I figured the movie (and musical) was more of a phenomena in the U.S. given its picture perfect Hollywood movie style with Julie Andrews at the helm, however on the ground in Salzburg, I learned that it was a huge hit in places you'd least expect it to be, like Australia and China.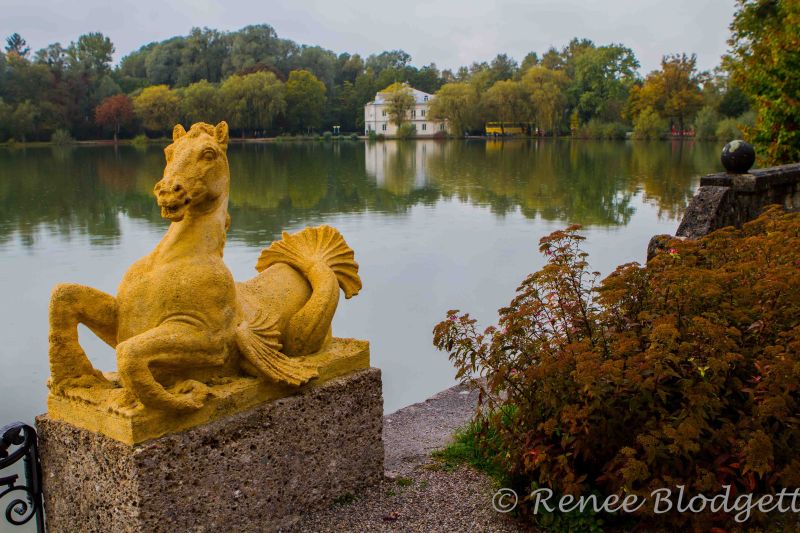 We watched The Sound of Music every year as a family for as long as I remember and no doubt, as a child, I watched it more than once some years.
As a little girl, who can't relate to the "You are Sixteen" scene? Here, Liesl and Rolf sing this "coming of age" song in the romantic Gazebo setting as she looks to him for guidance at the start of womanhood.
While some women may roll their eyes at a scene that depicts a teenage girl being so wooed by a boy that she is putting all hopes in the notion of him "taking care of her," suggesting that she can't figure it out on her own, there's an inherent and natural softness and innocence that is so beautifully portrayed in the scene and so many of us can resonate with it regardless of where we hail.
Perhaps reliving the scene as I did in Salzburg this year, holds the same romantic and tender memory as it did over 40 years ago because of the fact that traditional role models defined by sex are falling away. All we're left with when the definitions of who does what is gone is the purity of another human being you fall in love with, sitting across from you each day.
And, getting support from the other isn't an act of weakness, but an act of strength especially when polar opposite energies (masculine/feminine) play their part in the story we call life, even if its not quite the fairy tale life Hollywood is so known for projecting.
Below, I return to childhood in the original gazebo, which we visited at night -- one of the many original filming sites of The Sound of Music movie.
The lovely calling of romance and the innocence of childhood is so compelling in this scene, particularly given the context and that it happens on the heals of  Hitler and political turbulence during a volatile time for Austria.
"A bell is no bell 'til you ring it, A song is no song 'til you sing it, And love in your heart Wasn't put there to stay - Love isn't love 'Til you give it away."
You'll no doubt recognize the shot above as another memorable scene from the movie -- Schloss Leopoldskron and the façade facing the lake which represented the von Trapp residence.
It was in this majestic and historical building where they held the official press conference celebrating 50 years.
Speakers included four actors who played the von Trapp children -- Debbie Turner as Marta, Duane Chase who played Kurt, Heather Menzies played Louisa, Nicholas Hammond who played Friedrich, Johannes von Trapp, the youngest son of the von Trapp family in real life who lives in Vermont today, Governor Wilfried Haslauer, Mayor  Heinz Schaden and the head of Salzburg Tourism Bert Brugger.
They held court upstairs in the Schloss Leopoldskron Palace's library, which dates back to 1736 and its ever so encompassing architectural details only added to the historical impact the movie has had on the world. Inside, while broadcast media set up cameras to film the event, I couldn't help but to be drawn in by Kleber's stucco work on the ceilings which has been described as "the best example of rococo stucco the land can offer".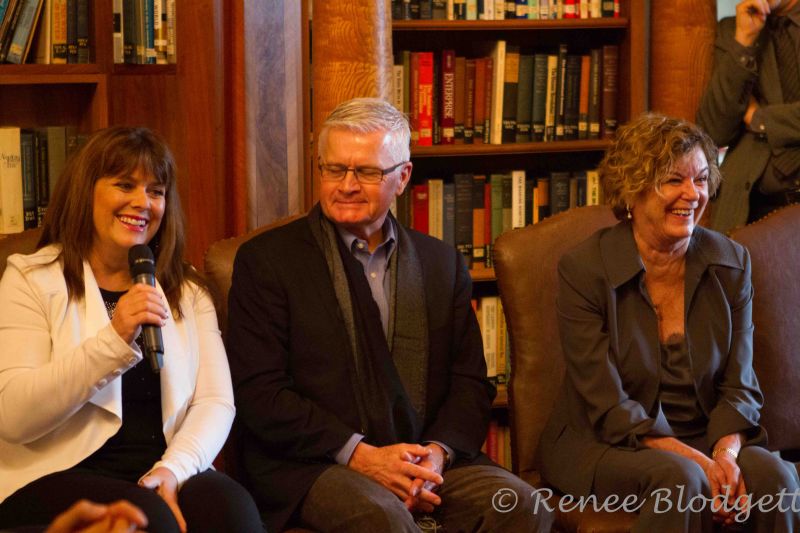 Below is a short video of Johannes von Trapp addressing attendees at the official press conference.
Johannes von Trapp, now 76, was incredibly charming as he sat at the helm in an Austrian uniform, recounting his memories and sharing tales of his own life, noting what was similar to the movie and what differed. For example, his family didn't really climb over the hills and trek across the border, but took a train and nor did Maria and the Colonel marry at St. Stephen's Cathedral in nearby Mondsee, which was where the famous church scene was shot towards the end of the film.
Continue reading "Happy 50 Years to The Sound of Music"

Posted by Renee Blodgett on November 9, 2015 | Filed in America The Free, Europe, Events, Magic Sauce Media, Music, On Poems, Literature & Stuff, TravelingGeeks, Videos | Permalink | Comments (0)
October 29, 2015
Deepak Chopra & Rupert Spira on Motionless Consciousness
Deepak Chopra explores consciousness, human suffering and beyond in his on-stage talk at the SAND Conference this year.  As always, powerful.
His solo talk  explores consciousness, awareness and happiness. When we think of the word happiness, do we think of the word seeking? Or does true happiness come from no seeking at all -- it happens in the moment and when not labeled, it becomes pure joy.
Happiness is not at the end of seeking, its at the source of seeking. As the finite mind plunges, the consciousness mind shines.  Says Deepak, "the Human Universe is the only universe that is rooted in consciousness." In other words, I am the universe. Science is consciousness. God is consciousness, we are consciousness.
He asserts that the Quantum Universe has led to too many mathematical guessing games, all leading to the uncertain universe."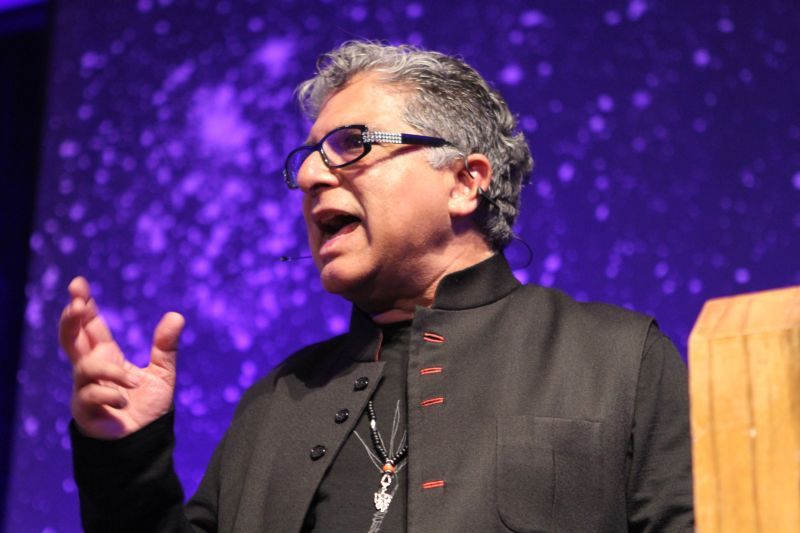 Below, a video I took on-site, he also explores the "awakening of bacterial consciousness." He refers to studies they've done that attribute a purposeful consciousness life to healing around many conditions including leaky gut syndrome.
Continue reading "Deepak Chopra & Rupert Spira on Motionless Consciousness"

Posted by Renee Blodgett on October 29, 2015 | Filed in America The Free, Events, On Spirituality, Science, TravelingGeeks, Videos | Permalink | Comments (0)
September 17, 2015
The Magic of Mirror Lake's Reflections at Dawn
The loons are echoing in the background and I can hear their call much louder than I can on Caroga Lake's waters for some reason, my old stomping ground.
I'm not sure if part of it is the fact that I'm a hundred feet higher than I normally am when the loons call to me or the fact that we're further north in the Adirondacks – either way, as I sit here reflecting on Mirror Lake's serenity and magic, the loons are part of it all and its a beautiful thing.
Small as it is, Mirror Lake is large enough to tire your arms as you paddle from one end to the other. The loons are in the middle and along the edge. Frogs too.
I never tire of lily pads and their slimy underpinnings that keep them connected to the lake's murky black bottom. As I slide by them in my canoe, I hear nothing but the soft sound of the paddle jolting the still waters. I bring my paddle inside the canoe and then the real magic starts….I wait a moment or two and then....nothing but silence.
Silence gives more to humanity than almost anything else I know and yet so few of us have ever been shown the beauty that lies within its oh so solo echo chamber. Within that echo chamber is a kind of fearfulness; it's about as tangible as it gets. When all the sound and clutter disappears, we are left with nothing but ourselves and that can be a frightening thing at times.
I bring my hand under the lily pad so I can scoop one up as I did as a child and in doing so, it brings a smile. It flops down onto the bottom of the canoe as I scoop up one more. As I do, I can't help but notice that the sky is changing.
The sun isn't quite up yet but it is fighting to make its way through the mist, through the fog, through the clouds, through the murk of dusk before the sun finally breaks. As the minutes go by, the skylight changes, and as I look around, no one has yet joined me on this mysterious and blissful journey that brings in the tranquil Adirondack dawn.
Continue reading "The Magic of Mirror Lake's Reflections at Dawn"

Posted by Renee Blodgett on September 17, 2015 | Filed in America The Free, New England, New York, On Nature, Reflections, Travel, TravelingGeeks | Permalink | Comments (0)
June 23, 2015
Digital Health Summer Summit & Their Digital Health Playground
I've experienced some of Digital Health Summit's energy, largely at CES (Consumer Electronics Show) in Las Vegas, where it has grown in size over the years and now represents some of the most innovative technologies happening in the health, wellness and medical arena.
Last week, they held their Digital Health Summer Summit in San Francisco, which consisted of a full day of panel discussions, keynotes and something they refer to as Digital Health Playground, which is an expo of companies showing off their latest products.
Photo credit: LearnersOnline.com
The reason I've been so interested in digital health lately is not just because of the marketing and communications work I've done for HAPILABS and Kolibree over the past few years, both of which announced the world's first in their respective categories (connected fork and connected electric toothbrush).
This world obviously got me into deeper into the world of quantified self and devices that measure everything you do, from the quality of your breathe, to your sleep patterns and the steps you take every day. While I find quantified self interesting and in some cases, leaps ahead of our time, empowering individuals about their bodies in ways that was never possible before, I'm also concerned about over monitoring since doing so means that the EMFs emitted and other electrical energy that comes from these devices are close to our bodies if not on them 24/7.
Continue reading "Digital Health Summer Summit & Their Digital Health Playground"

Posted by Renee Blodgett on June 23, 2015 | Filed in America The Free, Conference Highlights, Events, Magic Sauce Media, On Health, TravelingGeeks | Permalink | Comments (0)
June 09, 2015
Soaring Fees & Declining Airline Service Do More Than Disempower Customers
While I'm not a 100,000 mile gal, I spend a lot of time on planes throughout the course of a year.  When it comes to flying these days, I think we can all agree -- it's a far cry from fun. Barely tolerable is what comes to mind.
Photo credit: Outsidethebeltway.com.
The saddening reality is that airlines worldwide brought in $31.5 billion in non-ticket revenue in 2013 -- including passenger fees -- which is MORE than 11 times their non-ticket revenue six years prior, adjusted for inflation according to CNN Money. Unfortunately, there's little that we can do about it. There's no plea here and our voices go unnoticed....otherwise, the price increases wouldn't continue to soar year after year, not to mention new fees being added for incredulous things.
Photo credit: Dave Granlund.com.
Customer feedback no longer matters since it's become an industry that treats people more like helpless cattle in tow than worthful customers they care about "serving." Truth be told, I haven't had a memorable and rewarding experience flying coach in about 8 or 9 years and it's getting worse.
The smile comes on the video screen welcoming you prior to take off and if a video isn't enough to make the whole experience feel less personal, I saw a recent clip where an unnamed airline actually replaced people with avatars.
During that "happy" video, you're reminded that if you didn't bring your own headset, you can get one from them for a mere $5 and that's before you have to pay for the in-flight entertainment, no longer free. I'm old enough to remember when all of the "now" perks were just part of your normal travel experience -- the headsets, the meals, the movie, changing your flight date or time and hell, American used to give away pens and decks of cards.
Meals in coach used real napkins laid out on the side of your plate and silverware -- I'm not sure how I'm going to take a pilot down with a butter knife and silver fork, but hey, clearly they're still worried about it. If it's domestic, I oscillate between my two favorite U.S. carriers – Delta and American and if it's international, I try to use one of their partners for the mileage points although frankly, it's becoming less compelling by the day since it's a helluva lot of work to get "status" points and once you've killed yourself on god awful flights to get them, your perks and benefits get set back to zero before you have an opportunity to relish in boarding ten minutes early and that one bag free perk.
I avoid United as they remain as anti-customer as Comcast does on the corporate brand list....the two companies should do joint seminars on how to piss off a customer the most in a one hour period.
Photo credit: www.thefinancialbrand.com 
Continue reading "Soaring Fees & Declining Airline Service Do More Than Disempower Customers"

Posted by Renee Blodgett on June 9, 2015 | Filed in America The Free, Magic Sauce Media, PR & Marketing, Reflections, Travel, TravelingGeeks | Permalink | Comments (0)
June 03, 2015
What Can You Find Out About Yourself on Ancestry.com?
I've always been fascinated by ancestry for as long as I can remember, but probably moreso because as a child, I knew very little about my blood mother, who we used to all refer to as my "real" mother. In fact, story has it that she simply disappeared when I was around 2 and that little was known about her except that she was living in Florida and from French descent. I always probed - what do you mean by French descent? The response was always the same -- "her mother spoke French, her father was French, they lived in Canada for awhile, dunno."
So I was left wondering whether they were French Canadian or French European, but always thought the latter and later learned that her parents and grandparents were more old school French that I originally imagined and that on my father's side, my great grandmother who I knew personally until my teenage years when she died a ripe old age, had an ancestral past with the French Huguenots. No wonder I was so taken by the French Huguenot history and culture when I roamed through Europe like a bohemian nomad in my early twenties.
Photo credit: Reddit.com
Sometimes I wish that they had blogging tools (and the Internet for that matter) when I was that bohemian nomad, so many of those stories could have been captured online. The truth is that my travel was so bohemian, it may not have worked for a blog -- I crashed with people and camped more often than not and often did swaps of sorts to make my way around the world, doing everything and anything you can imagine for my "keep", from washing dishes, waiting on tables and smashing olives to selling art, milking cows, packing foam in a factory and picking greengages.
Continue reading "What Can You Find Out About Yourself on Ancestry.com?"

Posted by Renee Blodgett on June 3, 2015 | Filed in America The Free, Europe, On People & Life, On Science, Reflections | Permalink | Comments (0) | TrackBack (0)
April 29, 2015
Melding of Minds on the Future of Humanity Over an Arc Fusion Jeffersonian Dinner
Ever heard of a Jeffersonian dinner? I've been invited to one or two over the last few years, one of which was being held in Washington DC, where it was birthed in the 1800's by none other than Thomas Jefferson himself. Because of those invitations, I had some vague idea of what they were, but never actually participated in one until the Arc Fusion folks hosted one recently in San Francisco.
Photo credit: www.smithsonianmag.com  
Rewind the clock to 1819 and visualize yourself at a long and decadently adorned table with Thomas Jefferson at Monticello, his elegant Virginia home. Around the table, you're seated with a group of people steeped deep in culture, philosophy, education, history, politics, art, literature, science and theology.
The idea behind a Jeffersonian Dinner is to bring people together from different disciplines, creating a new cause-centered community around a topic of importance or significance you might want to discuss for whatever reason. This can be done to tap into new resources, raise funds for a non profit or important issue, or simply to expand the group's thinking about a variety of topics.
It's important that it be somewhat intimate so 12-15 people at a table is a good size and I'd argue that while someone's home isn't a requirement, it makes it more personal -- a private dining room could also work.
The purpose of the Jeffersonian Dinner is to build a sense of community and partnership around a shared interest or theme. One of the rules is that everyone participates in a single conversation and are not encouraged to engage in one-on-one dialogues with their partners on either side.     
Photo credit: blog.asana.com. 
How fitting that the San Francisco Arc Dinner be held at the 1880's Payne Mansion on Sutter Street and also how intriguing that the topic at hand was not about the past, but about our fears and concerns for the future, say in 100 years.
David Ewing Duncan kicked off the event. A historian, author, journalist and also CEO of Arc Fusion, which celebrates the conversion of IT, healthcare and biotech, David decided to take us down memory lane before dinner.
Photo credit: Arc Fusion Website.
Continue reading "Melding of Minds on the Future of Humanity Over an Arc Fusion Jeffersonian Dinner"

Posted by Renee Blodgett on April 29, 2015 | Filed in America The Free, Conference Highlights, Events, Magic Sauce Media, On Health, On Innovation, On People & Life, On Science, On Technology, On the Future, Reflections, San Francisco, TravelingGeeks, WBTW | Permalink | Comments (0) | TrackBack (0)
March 20, 2015
Reflections on the East Coast West Coast Thing...
Preparing oneself mentally for leaving America's East Coast and its way of viewing the world is something I've done six times now, the first transition was to America's south, followed by Arizona and southern California and then, a few overseas stints where I lived in a variety of luxury, shacks and working class suburbs. In between, I hung my hat in villages, on a kibbutz, along the coast and amidst urban decay and sprawl.....I did it all.
Above, rural Virginia in all its glory, on a cold and brisk winter day.
Then, after many years doing what I was told in the Boston corporate world, I stored a three bedroom house in some warehouse in New Jersey and drove west in a silver Honda Accord named Hamilton with a kayak rack on its top. That was a decade ago. He's still with me btw and purring along.
Above, Boston's Charles River at dusk in the days when I lived there, not long before I moved west.
When you're born and bred in New England, East Coast roots are what you understand, what you know and connect to and the soil you want to touch when the tides are down, at least that's how it is for most people. I cried as I drove north on Route 128, for what I thought would be the last time, in a very long time. The car was packed, oozing with stuff I later would never need but couldn't part with at the time, and I looked like a young and modern version of a Beverly Hillbilly daughter, except with more miles under her belt.
I was bound for Canada since I was always one for choosing the path less taken and certainly zigzagging north and south over borders was one such way to do just that.
I could have taken Route 66 of course but I figured I had decades to tackle that one. Perhaps when I was old and gray and could whiz across in a slick purple aerodynamic RV just because I could?
En route, I was open to landing somewhere else other than San Francisco if another place spoke to me with more clarity, Portland and Seattle being on the top of my list, mainly for its access to some of the most beautiful mountains and scenery on America's west coast. My alternative route brought me into Canada, where I lost my radar detector during a police stop (who knew they were no no's in the Maple Leaf country?), before I then ventured south again through Wisconsin and Minnesota, both of which I loved.
It was summer, so fishing and camping were the order of the day, all of which I resonated with growing up in the Adirondack Mountains. (below a shot taken from this past fall of a trip through the Adirondacks - sunset at Caroga Lake).
I headed north again before making a central b-line through parts of Kansas, both Dakotas, Idaho and Montana. There I spent time in the land of the free where I discovered the solitude of America's western lands -- the nothingness of the plains where you could hear a pin drop and the air was quiet one minute and menacing the next. Ahhh yes, a decade ago.
I was younger then. I had visions of wearing a cowboy hat and boots with faded torn jean shorts and a stylish checked shirt that fit tightly but appropriately across my chest. Silver cuffs hung from my right wrist and a funky leather watch with an antiquated plate hung from my left. My visions included sitting at the counter of some $1 a coffee midwest diner with a girlfriend who was similarly dressed so we didn't look too out of place in a town we knew nothing about.
Continue reading "Reflections on the East Coast West Coast Thing..."

Posted by Renee Blodgett on March 20, 2015 | Filed in America The Free, Reflections, Travel, TravelingGeeks | Permalink | Comments (0) | TrackBack (0)
February 27, 2015
Immerse Yourself in Wisdom, Compassion & Connection at TEDxBerkeley 2015
The sixth annual TEDxBerkeley, which will fill Zellerbach Hall in Berkeley CA tomorrow, February 28, will focus on Wisdom, Compassion and Connection. On stage in front of over 2,000 attendees, 57 speakers and performers will share riveting insights on these important and pivotal themes.
From Indian & Japanese Performers to Renowned Leaders, Professors & Apple's Co-Founder Steve Wozniak, don't miss the Live Stream at www.tedxberkeley.org. 
This year's inspiring line-up aims to transform the way we think about ideas that can re-shape the world's priorities in education, science, the environment, healthcare and beyond, all of which is center to the core of TED.
Apple co-founder and philanthropist Steve Wozniak will close this year's sold out event. Those interested in hearing the 2015 speakers and performers can tune into the live stream at http://www.tedxberkeley.org starting at 10:00 am PST. The social media hashtag for the event is #TEDxBerkeley.
Continue reading "Immerse Yourself in Wisdom, Compassion & Connection at TEDxBerkeley 2015"

Posted by Renee Blodgett on February 27, 2015 | Filed in America The Free, Client Announcements, Entertainment/Media, Events, Magic Sauce Media | Permalink | Comments (0) | TrackBack (0)
January 12, 2015
CES 2015 Wrap Up: From 3D Printing & Connected Devices to 4K TVs & Infrared Cameras
There was no shortage of companies jumping on the
"we must be connected to everything, or else.."
trend that was central to most announcements coming out of this year's
Consumer Electronics Show (CES)
in Las Vegas last week, an event that I've been going to for a couple of decades.
It was even the heart of Samsung's keynote address this year. At the Las Vegas Convention Center (LVCC), the main building for CES's heftiest exhibitors, it was Samsung (not Apple) who stole the show with its ever so impressive 360 screens that circled around its booth, showing flashy and compelling videos of cars racing and more.
It was all about their 4K TVs, which are bendable, flat and curved although Samsung had plenty to offer in the mobile, audio and home automation space as well. Samsung JS9500 series is a new concept in UHD (4K technology), which they tout as eco-friendly. It uses nano-crystal technology and an intelligent SUHD re-mastering picture quality engine, which gives vast improvements in contrast, brightness, color reproduction, and detail.
People seemed to be raving about FLIR at my evening networking events, a new infrared camera that connects to smartphones at around a $250 price point. As crazy as this sounds, the camera can spot pets and animals in the dark, as well as detect cold air drafts and leaking pipes in walls. FLIR ONE translates thermal energy into dynamic color images for personal safety, home repairs, outdoor adventures, and even artistic expression.
The "all things connected world" seemed to proliferate the Sands Convention Center, located just off the strip a stone's throw from the Wynn Hotel, where I demoing and singing Kolibree's praises, the world's first connected electric toothbrush with truly interactive feedback, gamification and 3D motion sensors. The toothbrush tells you how you've brushed, where you've brushed and where you haven't.
We had a dentist on-site who is also an advisor to the company explaining why this is important and how knowing where you're not brushing well empowers you to brush better next time around. In the old world, you'd only get that feedback from your dentist once a year, a far cry from the world we live in today where nearly everything can be connected thanks to Bluetooth technology.
A bit like Fitbit for your teeth, who also had a massive presence on the show floor not far from we hung our hats for the week, Kolibree differs from other connected brushes on the market, thanks to its proprietary technology, in that it provides an interactive map telling you exactly where you've missed, as well as where you've over-brushed and under-brushed.
All that data can be kept private or shared with your dentist, which is the first time that the dental industry will have access to this kind of data, all of which can be incredibly useful for both dentists and users.
Kolibree has teamed up with Dentegra who also had a presence at CES this year -- the combined forces will offer incentives and discounts on dental care, as well as 25% off the Kolibree toothbrush through the new Dentegra Smile Club to be launched early this quarter.
While healthcare is an obvious win for the connected market (think measurement of your sugar levels in real time if you're diabetic, feedback on your sleeping patterns so you can rectify through diet, exercise and other things, heart monitoring and reminders to take drugs), there were a host of other connected devices trying to prove that they were truly useful too.
The truth is - some were and some were....well, not so much.
New connected devices on the market seem to come in all types and sizes -- from blingy necklaces that vibrate when your husband sends you a text and baby diapers that let you know when your kid has pooped to washing machines, interactive cameras and Raticator, a rodent detectors that notify you when it has caught a rodent -- yes really (see the rat trap, a rat trap that uses a wifi chip to alert you when it electrocutes the rat).
Although I didn't see it, I heard about a toaster that notifies you when the toast is up. Really? Could I not see or hear it pop up from inside my kitchen?
Continue reading "CES 2015 Wrap Up: From 3D Printing & Connected Devices to 4K TVs & Infrared Cameras"

Posted by Renee Blodgett on January 12, 2015 | Filed in America The Free, Client Announcements, Conference Highlights, Events, Magic Sauce Media, On Health, On Innovation, On Mobile & Wireless, On Science, On Technology, TravelingGeeks, Videos, Web 2.0 | Permalink | Comments (0) | TrackBack (0)
January 11, 2015
Kolibree Connected Electric Toothbrush at CES 2015, First of its Kind with 3D Motion Sensors & Interactive Feedback
Kolibree was in full force last week at the 2015 Consumer Electronics Show (CES) in Las Vegas. It is the only connected electric toothbrush on the market that gives you real-time feedback using its 3D sensors (9 axis), and built in accelerometer, gyrometer and magnetometer. Kolibree's proprietary technology knows whether you've effectively reached every zone of your mouth and statistically what areas you have missed.
Once you brush your teeth, feedback on how well you've brushed goes directly to your smartphone via Bluetooth and the data is stored in an individual profile – you can also store countless people's brushing habits on one smartphone, making it motivating for the whole family.
The data can be kept private or shared with your dentist. "What's great about the Kolibree toothbrush, for a dentist who focuses on children's dental care, is that I can see how well they're doing and can coach them on where to improve. For patients who have just had dental surgery, I can even recommend which vibration is the most effective one based on the condition of their mouth," said Holly Hasegawa, DDS, MS, Co-Founder and Advisor of Kolibree. Below, Holly demos Kolibree to an eager-to-learn consumer.
Continue reading "Kolibree Connected Electric Toothbrush at CES 2015, First of its Kind with 3D Motion Sensors & Interactive Feedback "

Posted by Renee Blodgett on January 11, 2015 | Filed in America The Free, Client Announcements, Conference Highlights, Events, Magic Sauce Media, On Health, On Innovation, On Technology | Permalink | Comments (0) | TrackBack (0)
Kolibree & Dentegra Announce Collaboration at CES 2015
Kolibree and Dentegra Insurance Company announced plans at this year's CES show in Las Vegas, to offer innovative Kolibree Connected Electric Toothbrush, dental discounts and rewards through new Dentegra Smile Club, slated to go live early this quarter.
Dentegra offers innovative and affordable dental insurance plans to individuals and groups in 38 states and is one of the nation's leading stand-alone dental issuers on the public health exchanges of the Affordable Care Act. The new Dentegra dental discount plan will not be an insurance program, but rather a part of Dentegra's new "Smile Club" connecting members to advances in dental health care, pricing transparency, reviews and discounts on dental products and services.
Continue reading "Kolibree & Dentegra Announce Collaboration at CES 2015"

Posted by Renee Blodgett on January 11, 2015 | Filed in America The Free, Client Announcements, On Health, On Technology | Permalink | Comments (0) | TrackBack (0)
December 23, 2014
Nicoise & Liquid Nitrogen Cooking at the International Culinary Institute in New York
You don't even have to read this site that often to know that I'm a huge fan of French culture, art and food/wine.
We Blog the World has a ton of content on France in general and I've written about the food in Paris numerous times, the most recent being my trip this summer and fall (yes, I graced Paris with my presence twice this year -- be sure to read my write-up on Michelin star La Cuisine) and Normandy and Brittany in September. Also learn more about Calvados and the foodie scene from my trip. So, whenever there is an opportunity to go deeper into the world of French food, you don't need to twist my arm very hard to say yes. This month at the International Culinary Institute in New York City, Anthony and I attended a food event dedicated to southern French cooking, specifically Nice. What was so magical about it was how it started....in a fog of smoke you wonder? No, not quite, but in a fog of smoking cold and scary looking frozen air so to speak. Yup -- the very cool effect of cooking with liquid nitrogen.
Cooking with liquid nitrogen isn't new but it's certainly not common and you don't get the experience of eating a dish immediately after the process in too many places. Apparently as far back as the 1800's, ice cream was made with liquid nitrogen, but today, it's really only used by the more innovative and cutting-edge chefs. The mayor of Nice (pictured below) and the head of the Nice Tourism board flew over for the event, as did some of the best chefs in Nice.
Below, the head of Nice's tourism board gives liquid nitrogen a try :-)
Continue reading "Nicoise & Liquid Nitrogen Cooking at the International Culinary Institute in New York"

Posted by Renee Blodgett on December 23, 2014 | Filed in America The Free, Europe, Events, On Food & Wine, On France | Permalink | Comments (0) | TrackBack (0)
November 25, 2014
SAND 2014, The Nonduality Event That Bridges Science & Spirituality
SAND is such a great name for a conference and no, it doesn't hold that acronym because it's a travel conference that focuses on adventure in the sand. SAND stands for and is about all things that encompass Science and Nonduality.
The mission of SAND is to forge a new paradigm in spirituality, one that is not dictated by religious dogma, but based on timeless wisdom traditions of the world, informed by cutting-edge science, and grounded in direct experience.
I first attended the event two years ago (see my blog post from 2012), when it was held in Marin, just north of San Francisco. While they have an annual event in Europe as well, the U.S.-based event is always held in California.
This year, they headed south and set up shop for their nearly week long event at the Hayes Mansion on Edenvale Avenue in San Jose California, a resort which was once a lavish private estate.
People across continents and from all walks of life started flowing in on October 22 for this annual gem of an event. It was an entirely different vibe this year and I'm not sure if it was due to its extravagant venue choice, the fact that the quality of the content was even better or that I'm a little further along on my spiritual journey. My guess is that it's a combination of all three.
Surrounded by lush, emerald green lawns, accented with gardens of vibrant, colorful flowers and guarded by towering palm trees, the 100-year old mansion was transformed into a spiritual wonderland inside and out. Outside was an experiential oasis, which included a sound therapy tent run by Danny Goldberg (below).
Continue reading "SAND 2014, The Nonduality Event That Bridges Science & Spirituality"

Posted by Renee Blodgett on November 25, 2014 | Filed in America The Free, Conference Highlights, Events, Magic Sauce Media, On People & Life, On Science, On Spirituality, On Technology, San Francisco, TravelingGeeks, Videos | Permalink | Comments (0) | TrackBack (0)
November 24, 2014
On Japanese Quirks: Getting Over the Tokyo "Thing"
I spent a few weeks in Tokyo, the well recognized global city most frequent travelers have been to more than once. For this well-traveled chica, it was my first trip, largely since I had been told for years how hard it is to get around as well as how expensive it is to get around.
People also talked about the language barrier and truth be told, none of these stereotypes should scare a long time traveler and for some reason, between the stories and the radiation in the north, I put Japan on hold for awhile.
In just a few days, after nearly losing my cool getting lost five times in Shibuya's massive maze of a station, I fell in love with this renowned global Asian city.
First of all, a few surprises for the record. Formal But Genuine Friendliness: I was astonished how friendly people were despite the language barrier. Regardless of whether I was pointing to my map trying to get directions from a subway station to a restaurant or shop, or simply saying hello, I was greeted by a warm smile and a concerted effort to help even if they didn't speak any English at all.
One day as I flew forward in an effort to catch a fabulous shot in the north of Tokyo, I ended up face first on the ground, my camera lens thankfully was still in tact when I finally looked up. What wasn't in tact was my knee, which had lost a chunk of skin and was bleeding profusely. I tried to ignore this little incident because there were far too many photos to take and food to try, however a few women nearby came to my aid by pulling out band aids and antiseptic from their purses and offering them to me.
They wouldn't leave me alone until they were sure that my wound was covered and I was happily on my way. A similar thing happened in the airport on the way to Tokyo.
A Japanese woman sitting near me before we were due to board, noticed that I was shivering from JFK's overly active air conditioning system. She grabbed her shawl and wrapped it around my shoulders, which not only took me by surprise, but for a moment, I thought I was in a small village and not an international city airport.
Continue reading "On Japanese Quirks: Getting Over the Tokyo "Thing""

Posted by Renee Blodgett on November 24, 2014 | Filed in On Japan, Travel, TravelingGeeks, Videos | Permalink | Comments (0) | TrackBack (0)
Idea Festival 2014, Where Creativity & Innovation Converge
Imagine an eclectic conference in the heart of bourbon country that brings together thought leaders, big thinkers, educators, scientists, politicians, urban planners, technologists, authors, artists, students and musicians under one roof? And...that is not by all means an exhaustive list.
Idea Festival is the one event that I've jumped on an airplane for every year, bound for Louisville Kentucky to make the time for a four day discussion on creativity and innovation.
Last year's event coverage will give you a taste of who they attract and while the focus may change slightly depending on who's on the main stage, the mission remains the same: to Stay Curious.
Hear from founder and the force behind Idea Festival Kris Kimel; a snippet from a video I shot a couple of years ago will demonstrate his passion for the event and why he started it.  
Think of it as an intellectual playground in one of America's most interesting southern cities where people celebrate ideas, creativity and transformational learning across multiple disciplines, including science, technology, design, education, philosophy, business and the arts.
While not in any of these categories, Walgreen's Chief Diversity Officer Steve Pemberton received a standing ovation for his talk that not just touched on diversity but what it means to be human.  His childhood was far from stellar, yet he managed to rise above inequality and obstacles thrown in his path to where he sits today.
Continue reading "Idea Festival 2014, Where Creativity & Innovation Converge"

Posted by Renee Blodgett on November 24, 2014 | Filed in America The Free, Conference Highlights, Entertainment/Media, Events, Magic Sauce Media, On Technology, TravelingGeeks | Permalink | Comments (0) | TrackBack (0)
November 23, 2014
The Paris That I Never Seem to Tire Of...
I'm in a taxi whizzing down Boulevard de Magenta, one of those wider than normal Parisian streets. There are cheap shops where you can buy mobile phones, bags and wedding dresses in the windows on both sides and you wonder what surprise will come around the next corner.
We pass a sign for a Bach concert at one of the music halls, somewhere around Place de Clichy. My driver hangs a right on Rue de Rocroy and the street gets narrower. Small shops, a coiffure Mixte, a few not so stellar looking 2 star hotels, a cafe brasserie and tabac on every corner, a nail salon and a few optique stores for glasses. In my rear view mirror, I see travel agent and pharmacy signs as we weave in and out of even more narrow alleys and roads.
The meter is escalating and I can't help but think of the sign that had prefix prices for certain districts of the city. He is miserable and not worth the fight despite his fabulous taste in classical music which he has blaring from some device in the front seat I can't see. Salt and pepper, a sharp nose, no smile. He refuses to smile in fact and he hates that I am paying by credit card.
It was the first Sunday of the month and the sky was hazy but the day was warm, a rarity on Paris visits. I originally had plans to get out of Paris for the day with a friend, take in some gardens and have a picnic in a park however after the plans fell through, I changed course and decided after a taxi towards a more remote spot on the Seine, I would begin to walk and keep walking until the sun set.
One of my favorite things to do is meander through Paris without a clear purpose and just see what shows up. I had started my morning in a funky part of the Marais, where art and graffiti were plastered across walls before jumping into the cab. As the desire to see more nature and less people increased, it was time to move towards the water. And so....I asked the driver to stop on the Seine where there were very few people.
Continue reading "The Paris That I Never Seem to Tire Of..."

Posted by Renee Blodgett on November 23, 2014 | Filed in Europe, On France, On People & Life, Reflections, Travel, TravelingGeeks | Permalink | Comments (0) | TrackBack (0)
November 22, 2014
Nature From Your Roots Is The Best Serenity Source There Is...
It's no secret to anyone who has followed my posts for awhile, that I have a soft spot for the Adirondacks and that I spent my childhood hiking in her woods, climbing her peaks and swimming in her waters.
For those who haven't followed my travels and may not even know where the Adirondacks are, it refers to the Adirondack Mountains, a mountain range in upstate New York, roughly a 3-4 hour drive from New York City.
The Adirondacks are not that close to get to for urban travelers nor for those who only have a short window to see a few major highlights when they come to the states. If you have a car, it's a fairly easy shot up the New York Thruway but if not, you're stuck on a not so stellar Trailways bus which I had the misfortune of taking this past summer.
That said, if you give the Adirondacks your time, you'll experience a serene spirit and sense of peace you've never known before.
Does that serenity and peace come from the Mohawk Indians of yesteryear? The Hudson River with her long history and roots?
Or, does it come from the pine trees? Perhaps it's the loons who wake you up in the morning and sooth your weary soul as the sun sets? I'm sure it's a combination of all of them and more, or perhaps its merely the remoteness of the place combined with the fact that people are about as genuine as they get.
I rarely get back to the Adirondacks for a myriad of reasons. Family have passed or those who are still alive, feel as if they have.
The place brings me as much sadness as it does joy for many of the same reasons that Richard Russo writes about in Elsewhere, also his old stomping ground. A few friends and family felt that he was a bit "harsh" about the area, and yet I felt he spoke his truth, which is all there is really... Deep down, I recognize that his truth resonates with countless people I know in the area, even if they never dare say so. For as vocal as I am, I rarely ever dare say so either.
Why? Because doing so may come across as attacking your hood rather than supporting it as many point out of Russo's writings. As I get older, I'd rather take the approach I take with everything in my life even if it backfires: speak up about what matters in the most authentic way possible.
It goes a bit like this: if there's something positive you can take from a person, place, experience or thing, embrace what works and integrate it into your life. If it doesn't, learn what the blockage was or why there was a failure and even what caused it and either try to improve upon it or simply let it go. Letting go is so hard isn't it? Hard, but oh so necessary if we want to move forward in our lives and...heal.
Even those among us who tout no dysfunction in their family upbringing, need healing. While my views and memories are not quite as harsh as those of Richard Russo, there are haunting memories of redneck towns and boroughs, all of which are surrounded by some of the most beautiful natural beauty I have ever known.
When the industries that supported American small towns collapsed, (in the case of the Adirondacks, it was leather), so did people's hopes, dreams and aspirations. With that collapse came a sense of desolation, depression, anger and for those who supported the troops, post war traumatic stress.
Continue reading "Nature From Your Roots Is The Best Serenity Source There Is..."

Posted by Renee Blodgett on November 22, 2014 | Filed in America The Free, On Nature, On People & Life, Reflections | Permalink | Comments (0) | TrackBack (0)